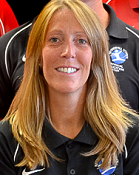 Lisa Woolfe
Partnership Projects Officer
Lisa is the port of call for the office and manages the website, in particular bookings and inquiries regarding courses and competitions.
Lisa's role as projects officer includes coaching, team building, Balanceability, competitions and leadership training for staff and pupils.
Before Lisa joined the partnership she worked within the PE department at Netherhall School. She was a specialist PE teaching assistant for 9 years working with students in practical and theory lessons.
Lisa is based in the partnership office at Netherhall School.
01223 242931 Ext 267
Email:csspadmin@netherhallschool.org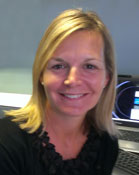 Cath Heron
Partnership Manager
Cath qualified as a PE teacher from Loughborough University. She joined the Partnership in 2006 as St Bedes School Sport Coordinator moving to become the Partnership Manager in 2015.
Most recently Cath has taken charge of the programme scheduling for the Partnership Subscription Service, looking particularly at the Continued Professional Development, Bikeability, Team Building and Coaching programmes for our primary colleagues and Sportivate bids for 14+ students.
Partnership Manager involves strategic planning with numerous partner organisations, managing projects, leading a small core team of people and deploying coaches and other providers to develop sporting opportunities for young people in Physical Education and School sport. These come through the Partnership's School Subscription Service.
Cath is also the School Games Organiser (SGO) for the Cambridge, Bottisham and Sawston localities, developing pathways for young people to participate in Level 1 and 2 competitions, leading to the Level 3 Sainsbury's School Games in Cambs & Peterborough. This also involves strategic work with the Living Sport, local NGBs and club partners.
Cath is based in the partnership office at Netherhall School.
01223 242931 Ext 267
Email:cheron@netherhallschool.org