The Partnership incorporates three focus areas of work: the School Games, our Primary Subscription Service and support to our secondary schools.
Supporting Education Establishments
The Partnership has worked with primary, secondary and special schools for the last 15 years to increase the opportunities for children and young people. Currently 35 primary schools, 9 secondary schools, Castle special school receive support from the Partnership through our Subscription Service.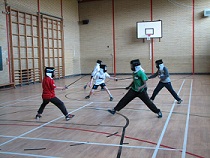 The breadth of this support is wide and varied, but largely focused upon Continued Professional Development, providing coaches and additional sporting opportunities for OSHL, swimming development, pupil leadership development, health and behaviour intervention programmes and access to Bikeability.
The development of competitive opportunities for all young people has always been a key focus of the Partnership's work over the last 15 years and the impact has been felt by the many thousands of children who have enjoyed the numerous competitions provided. This Partnership work is now driven by the Government's School Games.
The Partnership has also continued to work with and support Further Education Colleges based in Cambridge. This association has enabled post 16 students to experience new opportunities in leadership & volunteering, competition, enrichment activities and community involvement.
Local Authority Collaboration
The Partnership has worked closely with all three local authorities in the locality: Cambridge City Council, South Cambs District Council and East Cambs.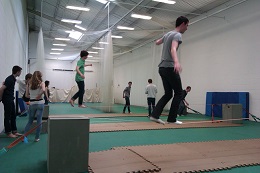 We are privileged to have the support of our local authorities and the relationship is a strong one founded upon a mutual desire to benefit children and young people through physical activity and sporting experiences. To this end we have worked on a number of joint projects, for example the Sport For All and free Swimming. This collaboration is set to continue and will only provide further opportunities to children and young people.
Sporting Agencies
Over the last fifteen years we have developed a strong network of links with many National Governing Bodies of Sport, at both regional and local level. These collaborations have enable many young people to experience high quality OSH coaching, competitions, leadership opportunities and supported transition to community clubs. Our work to develop opportunities in specific sports such as gymnastics, tennis and hockey has brought together representatives to develop a cohesive pathway of opportunity and development for children and young people in the Partnership.
This network is further under-pinned by our close bond with the County Sport Partnership, Living Sport, who also oversee the L3 County School Games finals. Sport England provide the direction for much of their work, but the Partnership has valued their support, enabling us to develop School to Club links, a variety of Leadership and Volunteering opportunities for our young people.
The Youth Sport Trust also continues to support the Partnership's work to provide the School Games through the work focus of the School Games Organiser.
Sporting & Health Providers
The Partnership also has links with a variety of sports and health providers, such as the NHS, not for profit organisations and local community sports clubs. These collaborations have helped to provide a wide variety of physical activities and sporting opportunities for young people in a diverse number of ways. Equally additional funding through successful grant applications and initiatives has enabled children to enjoy a wider sporting experience.