William Westley Triumphant Again at the Year 3/4 Cricket Competition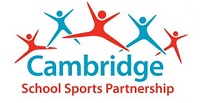 The teams were split in to 4 groups. Kwik cricket is very inclusive with each team member having to bowl 1 over per match and bat for 2 overs as well as field and cheer on everybody!
The winners of each pool were Abbey Meadows A, Abbey Meadows B, Fulbourn and William Westley. Semi-finals were played which saw some very good bowling, batting, fielding and even some flying catches! The winners of the semi-finals were William Westley and Abbey Meadows A. Who then played each other in the final. This was a very hard fought game but the eventual winners were William Westley who retained their title from last year. Well done to them! They received gold medals and Abbey Meadows A took silver medals.
The runners up of the semi-finals were Abbey Meadows B team and Fulbourn. This was a tense battle for the bronze medals in the 3rd/4th playoff which resulted in a tie. Both teams claimed bronze medals.
Congratulations to all the children that took part from William Westley, Queen Edith, Fulbourn, Ridgefield, Abbey Meadows, Sancton Wood, Milton Road, St Laurence, Stapleford and Cambridge International. They showed great sportsmanship, applauding good play and cheering each other on.
The spirit of the games award for team work went to Milton Road for demonstrating fantastic team working skills throughout the competition.
Thanks must go to the brilliant Sports Leaders from Netherhall School who umpired and scored the matches.
Check out all of the photographs on our Facebook page, follow us on Twitter @CambridgeSSP