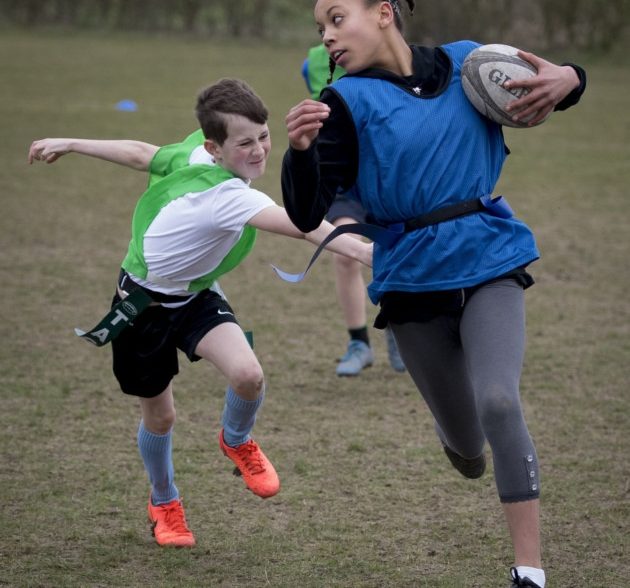 The Competition had to be rescheduled because of Storm Doris!
31 teams entered this year's Tag Rugby Tournament, with 10 competing in the Small Schools Competition. The day was filled with glorious sunshine, all helping to warm up a chilly spring morning. The children's enthusiasm was clear to see as each school arrived to this inspiring venue!  A big thank you to Shelford Rugby Club once again who played host and kindly supported what is becoming a very popular event in the Cambridge School Sports Partnership competition calendar.
21 teams from 13 schools entered the large schools competition with 9 Schools entering the Small Schools Competition. Building on the success of last year schools were keen to get involved and take part. It was truly great to see this competition grow into a real spectacle.
Cath Heron Partnership Manager for Cambridge School Sports Partnership said "The day was fantastic, it was great to see so many children enjoying the game of Tag Rugby. We were delighted with the number of schools entering both A and B teams. Shelford Rugby club have always supported the event and it is wonderful for the children to experience a community club. This shows them where they can carry on the sport outside the school field".
Small Schools Competition
Entries came from St Albans, Shelford, Fulbourn, Great Wilbraham, Stapleford, Cambridge International, Orchard Park, Ridgefield and Sancton Wood. The competition was played in two pools across 4 pitches, with Netherhall student leaders refereeing. Thanks to all the leaders for doing such a good job!
The top two from each pool then played off in the semi finals, Final and 3rd & 4th match.
Congratulations go to winners, Cambridge International School and runners-up Fulbourn, who will represent the Partnership at the County School Games Finals on Thursday 23rd March, at St Ives.
Results
1st: Cambridge International School
2nd: Fulbourn
3rd: Shelford A
4th: Shelford B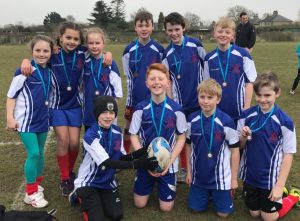 Large Schools Competition 
21 teams took part in the Large Schools competition. Entries came from St Laurence, Queen Edith, Newnham Croft, Arbury, Burwell, Morley, Mayfield, Milton Road, St Matthews, Abbey Meadows, Trumpington Federation, Colville and The Grove. Split into 4 pools of 6/5 teams. Each team playing 5/6 matches to determine who went through to the semi-finals.  Matches were hard fought and the children had great fun! Sports Leaders from Cambridge Regional College did a great job of refereeing and scoring the games to ensure a smoothly run tournament.
Results
The winners of the 4 pools were Queen Edith A, St Matthews A, Milton Road and Newnham Croft A. The semi-finals saw Queen Edith A beat St Matthews A and Newnham Croft A beat Milton Road. The losing semi-finalists battled it out in a 3rd/4th play off, both teams desperate to secure the bronze medals!  St Matthews A were eventual victors in a high scoring match of 3 tries to 2.
The final took place between Queen Edith A and Newnham Croft A. A really close match saw Newnham Croft A win by 2 tries to 1 and cap off a magnificent tournament to take the 2017 championship title!
Both Queen Edith A and Newnham Croft A will go through to the Level 3 School Games Finals in St Ives, on Thursday 23rd March.
Please click here to see the full report in the Cambridge Independent.