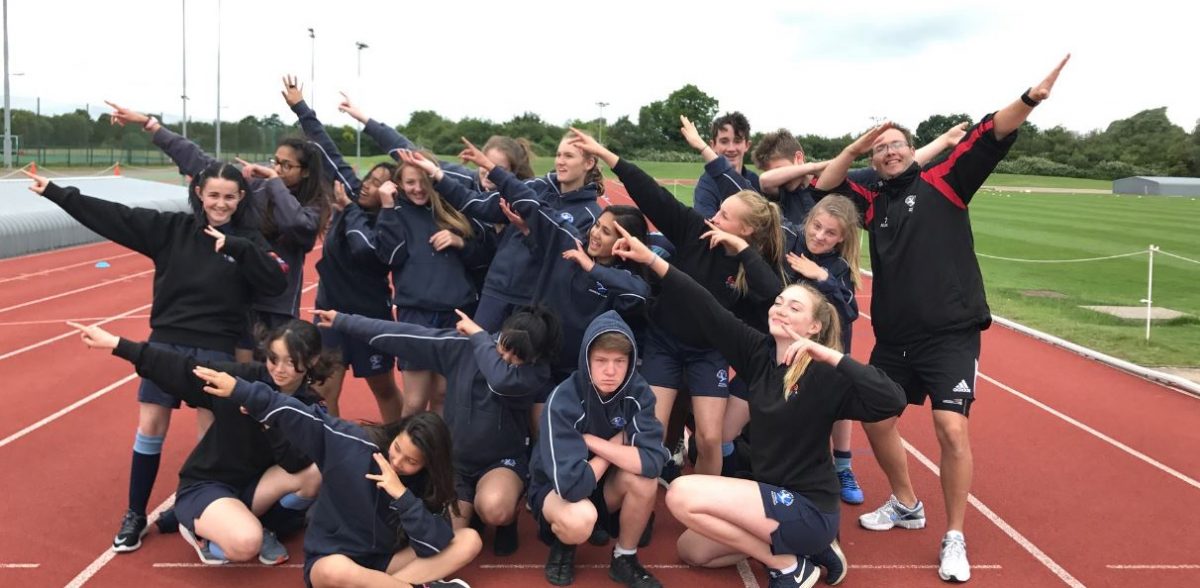 14 teams not only competing for the title of 'Cambridge SSP Champions 2019' but also the honour of representing the School Sports Partnership at the County School Games Finals later in the month in St Ives. Two competitions, one for 'Small Schools' and one for 'Large Schools' ran throughout the morning.
Cambridge University Sports Ground on Wilberforce Road played host to the annual Cambridge School Sports Partnership Year 5/6 Quadkids Athletics Competition on 6th June. The weather was perfect and children were keen to make a start. Warm ups were visible with a few keen athletes making their way around the 600 metre track for fun.
Quadkids is a team based competition with 5 boys and 5 girls each competing in a 75m sprint, a 600m run, a long jump and vortex howler throw. Individual performances are scored using a points table and the winners are the team with the highest cumulative points score.
The 'Large Schools' team competition was a spectacular event to watch. Points were being collected and positions between the schools were constantly changing. The eventual winners were Bottisham Primary School who finished ahead of runners up The Grove Primary School; both teams now qualify for the County School Games Summer Festival on 27th June in St Ives. In 3rd place was St Philip's Primary School.
In the 'Small Schools' competition the team from Stapleford Primary School finished as clear winners with Fen Ditton Primary School coming second. In third place was Swaffham Bulbeck Primary School. This sees Stapleford Primary School and Fen Ditton Primary School off to the County School Games.
There were also some great individual performances with the highest scoring 'Large Schools' boy coming from The Grove Primary School. The highest scoring 'Small Schools' boy coming from Teversham Primary School. The highest scoring 'Large Schools' girl coming from Bottisham Primary School. The highest scoring 'Small Schools' girl coming from Swaffham Bulbeck Primary School. All of these children received a certificate for their outstanding performances.
Lisa Woolfe, Project Officer for the Partnership said "Thank you once again to Cambridge and Coleridge Athletics Club, using the Cambridge University athletics track is such a privilege. Showing Primary school children the next pathway through sports is a real interest of ours. I'm sure some of the children will now want to join an Athletics club and compete. The Children showed real enthusiasm and this reflected in their performances. A huge well done to everyone who took part."
Mike Lee, assistant head at Swaffham Bulbeck said "It was great to see other children active and enjoying themselves. Coming along to the CSSP competitions is always a good day out and enjoyed by all. I entered a team to hopefully just compete against others. what we got was the experience of using a great running track and a win. The children couldn't be more happier and proud of themselves."
Sports leaders from The Netherhall Leaders Academy helped organise and score the events. They showed real professionalism and made a positive impact during the afternoon.