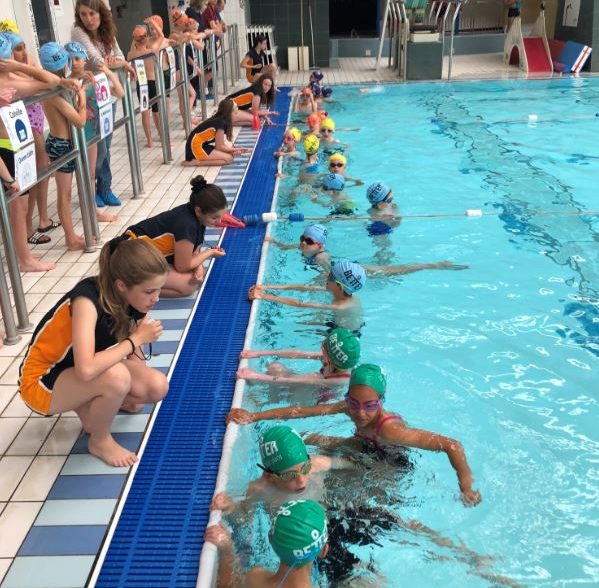 Congratulations to all the swimmers representing their schools in the Cambridge School Sports Partnership's third swimming gala. The venue was Parkside Pools and the main pool and Dive pool were awaiting a spectacular event.
The schools: Bottisham, Colville, Fen Ditton, Swaffham Bulbeck, Newnham Croft, Shelford, St Matthew's, Stapleford and The Grove.
Some of the swimmers were very excited when they arrived at the event. Many had been before and were very keen to show off all their hard work.  For the younger swimmersthis was their first experience at a swimming gala, they looked slightly nervous. The noise was electric and the atmosphere was delightful.
The Swimmers enjoyed the days challenge and with cheerful determination they swam proudly. The older swimmers supported the younger swimmers, family and friends cheering from the balcony and teachers helping, supporting and watching as the event unfolded.
Some very useful experience was gained by all swimmers. Each learning their own strengths and weaknesses. This will help motivate them and hopefully they will continue with their swimming training outside of school.
Well done to all the teams who entered! Each age group had the chance to collect points for their school. These points were added together to find the overall winning school. The top three schools would take home Gold medals for 1st place, Silver medals for 2nd place or Bronze medals for 3rd place.
Lavinia Pugh from Stapleford Primary School said "The event is by far my favorite. It is such a lovely afternoon and a lovely way to finish off the school year. The children have been super excited all day. "
A Huge thanks to the Parkside pool staff for their assistants on the day. Thanks and appreciation goes to GLL for their continuous support and sponsorship of the event. Thanks to The Cambridge City Council, especially Julie and Danielle who helped with the scoring table. Thanks to St Bede's leaders for their help on poolside which lead to the smooth running of the event and to all the parents and helpers giving up their day to come and support the Gala.
The results:
Year 3-
1st St Matthew's Primary School
2nd Bottisham Community Primary School
3rd  Newnham Croft Primary School
4th Fen Ditton
5th Stapleford Primary School
6th Great and Little Shelford Primary School
7th Swaffham Bulbeck Primary School
8th Colville Primary School
9th The Grove Primary School
Year 4-
1st Stapleford Community Primary School
2nd Newnham Croft Primary School
3rd Great and Little Shelford Primary School
4th Bottisham Community Primary School
5th Fen Ditton Primary School
6th Swaffham Bulbeck Primary School
7th St Matthew's Primary School
8th Colville Primary School
9th The Grove Primary School
Year 5-
1st Newnham Croft Primary School
2nd Bottisham Community Primary School
3rd Great and Little Shelford Primary School
4th St Matthew's Primary School
5th Colville Primary School
6th The Grove Primary School
7th Stapleford Community Primary School
7th Swaffham Bulbeck Primary School
9th Fen Ditton Primary School
Year 6-
1st Swaffham Bulbeck Primary School
1st  Newnham Croft Primary School
3rd Stapleford Community Primary School
4th Bottisham Community Primary School
5th The Grove Primary School
5th Colville Primary School
7th St Matthew's Primary School
8th Great and Little Shelford Primary School
9th Fen Ditton Primary School
Overall winning schools:
1st- Newnham Croft Primary School
2nd- Bottisham Community Primary School
3rd- Stapleford Community Primary School