2016 Brought Some Fun in the Sun as the Small Schools Showed off their Athletic Strength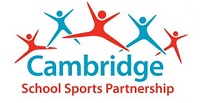 14 teams competed in the event. Teams were not only competing for the title of 'Cambridge SSP Champions 2016' but also the honour of representing the School Sports Partnership at the County School Games Finals later in the month.
Quadkids is a team based competition with 5 boys and 5 girls each competing in a 75m sprint, a 600m run, a long jump and a vortex howler throw. Individual performances are scored using a points table and the winners are the team with the highest cumulative points score.
The team competition was closely contested with schools jostling for positions after each round of events. The eventual winners were St Alban's 1 who went one better than last year's second position to take the gold medal. They finished ahead of runners up Shelford; both teams now qualify for the County School Games Summer Festival on 30th June in St Ives. Both these schools are 'small' schools (schools with less than 120 pupils in KS2) but they managed to beat the 'large' schools too! The 2 'large' schools qualifying for the County School Games are St Laurence who finished 3rd and Abbey Meadows 5th overall respectively.
There were also some great individual performances with the highest scoring boy coming from Abbey Meadows and the highest scoring girl coming from Stapleford School. Both these children received a gold medal for their outstanding performances.
Congratulations to Cambridge International School who were awarded The Spirit of the games award for showing real passion throughout the afternoon.
Cath Heron, Partnership Manager said "It was a great event and fantastic for the children to get to compete at the Cambridge University athletics track and use such lovely facilities, I hope it will have inspired some of them to get more involved in athletics. There were some excellent performances on the day so congratulations to all of our winners and well done to everyone who took part. As always we have to thank the amazing sports leaders from Cambridge Regional College who organised and scored the events for us; they did a great job and the staff and parents were full of praise for them. "
Full Results from the competition are below:
| | | |
| --- | --- | --- |
| Team | Points | Rank |
| St Alban's 1 (Small) | 1574 | 1 |
| Shelford 1 (Small) | 1379 | 2 |
| St Laurence | 1368 | 3 |
| Stapleford (Small) | 1360 | 4 |
| Abbey Meadows | 1353 | 5 |
| St Alban's 2 (Small) | 1273 | 6 |
| CIS (Small) | 1233 | 7 |
| Kings Hedges | 1217 | 8 |
| Grove 1 | 1212 | 9 |
| Colville 1 | 1202 | 10 |
| Queen Edith | 1184 | 11 |
| Shelford 2 (Small) | 1140 | 12 |
| Cherry Hinton (Small) | 1055 | 13 |
| Colville 2 | 1051 | 14 |