Athletics Virtual School Games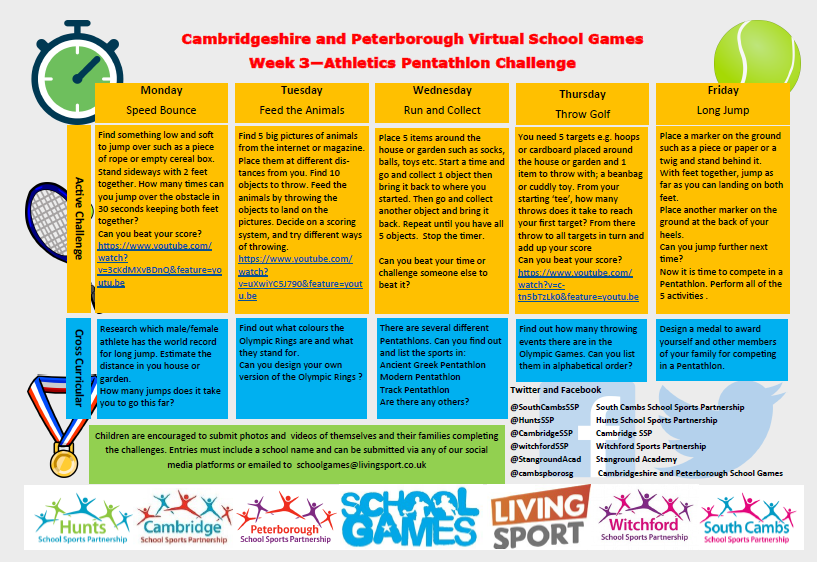 The week after half term (1st June) is athletics challenge week to coincide with our Quadkids competition that should have been taking place on 4th June. We have set a Pentathlon challenge – 5 athletics style events to complete at school or home for all age groups along with some cross curricular activities. Prizes are to be won for the school with the most video/photograph entries (£50 sports voucher) via email, Facebook or Twitter as well as a prize for a child in each SSP with the best entry.
Please see Athletics Timetable of activities for children to complete both in school or at home. The activities are all adaptable in terms of space and equipment so everyone can take part.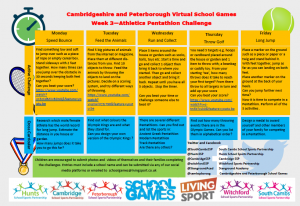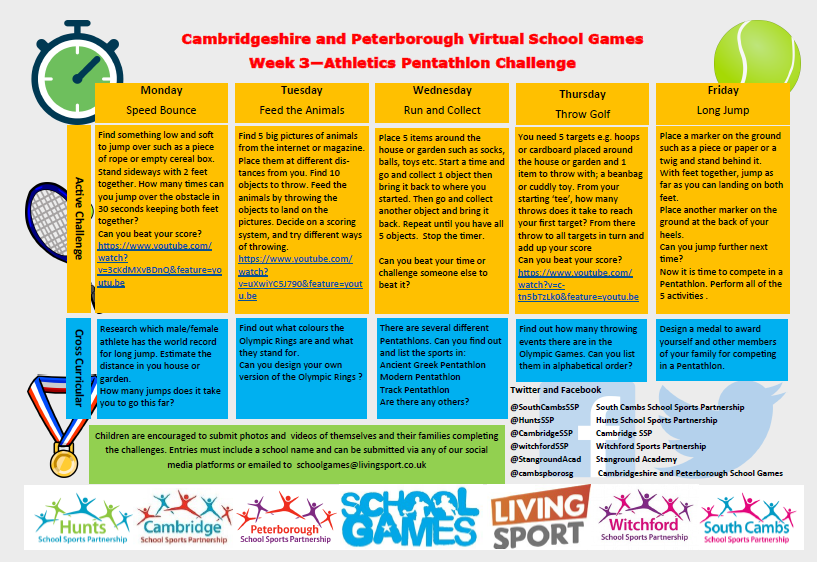 The good thing is, you don't have to do any preparation for the competition! It is purely to engage children in physical activity and have fun! Please could you send this information out to parents in your weekly newsletter, or however you communicate with parents/carers, and don't forget to Tweet!
The challenge weeks are listed below.
w/c 27th April                Netball
w/c 11th May                Tennis
w/c 1st   June               Quadkids Athletics
25th June                     Summer Virtual School Games Day
The emphasis is on fun and participation but we are also making this a bit of a competition so there will be prizes to be won! Schools will accumulate points and they will be calculated as follows:
Each entry from a school is worth 10 points. Entries will be by uploading videos/photos of the children taking part in the challenge.
Any school who likes, shares, tags us or retweets any of our posts will get an extra point each time so you could gain a lot of extra points! Unfortunately it won't count for parents' accounts as we cannot track these. It will only be school accounts. There will be prizes for both small and large schools.
Each week there will be an individual winner from each partnership: Cambridge SSP, South Cambs SSP, Hunts SSP, Witchford SSP and Peterborough SSP; and an overall school winner! These will be announced on our social media pages the week following the set of challenges.
We will also be releasing the daily challenges each day at 10am throughout the week on Twitter to try and engage more children.  You will have until the end of that week (Friday at 5pm) to complete the challenges and send them over to us. Ideally if you can complete each challenge on the day and send us the results that would make it a lot easier for us to keep track of participants and encourage others to take part.
Results and videos can be sent to us at  schoolgames@livingsport.co.uk or cheron@netherhallschool.org if you can not enter via Twitter or Facebook.
We would really appreciate if you could tweet us @cambspborosg or @CambridgeSSP or tag us on facebook on 'School Games in Cambridgeshire and Peterborough' or 'Cambridge SSP' so we can see all the schools taking part and have a really good county wide competition.
When sending in, tweeting or tagging videos please attach the first name of the student involved and their primary school that they are representing.
We would like as many people as possible to get involved so can you please spread the words to the parents so that the children at home can get involved as well as children still at school.
Safety
Throughout the Virtual Games it is the schools' and parents/carers responsibility to keep the children safe. We wish this to be accessible to every child in and out of school and it is up to the teachers and parents how you adapt and participate safely. This includes those pupils and children with no photographic consent, please only up load videos and photos where you have consent for pupils.
Good Luck to all schools and have fun!